25th March 2013 Dushanbe, Tajikistan
In Search of Oxus Treasure – Trip to Takhti Sangin
The following is a post by Bahodur Sheraliev.
In the extremely beautiful spot where the Vakhsh and Pyanj rivers flow together and give birth to the Amu Darya lie the ruins of the Takhti Sangin temple. Once a crossroads of the old silk routes, this previously dynamic and developed settlement is nowadays a place where shepherds stop to rest and occasional visitors come to explore. The sun rises over the valley in front of Takhti Sangin, and the full moon's reflection on the river projects onto it at night. The temple has a mild and cool wind, streaming from the beautiful valley created by two rivers merging into one.
Takhti Sangin is a Zoroastrian temple of the Achaemenid Persian period. It used to have constantly-blazing flames at both sides of the entrance, a place to pray and a sacrificial altar. During the silk-road period it was a center where merchants visited by land and river. Here, it is believed, the Oxus Treasure pieces were found in 1877; beautiful objects of incredible elegance and beauty.
The local museum in the Qabodiyon district has some pottery and column stones from Takhti Sangin, and pictures of the Oxus Treasure collection from the British Museum in London.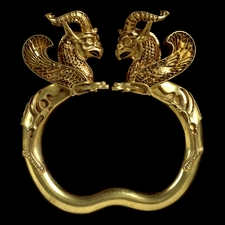 Local guide, Quvatali, tells me that the Takhti Sangin temple has various legends. Signs of different religions have been found, indicating that the temple existed as a strategic point of trade between the east and west. An old legend says that there is a tunnel below Amu Darya connecting both banks. Another legend says a daughter of an ancient King Cyrus (in Persian – Kurush) found peace of mind and a cure for her disease by residing along the Amu Darya River.
This trip was memorable for me, as it coincided with replicas of the Oxus Treasure being handed over to the Tajik government by the British Museum. Visitors to the new Tajik National Museum will be able to admire these high-quality golden replicas just as many thousands of visitors from all over the world admire the originals in the British Museum.
But, unfortunately, the story of the temple is different. Despite its historical significance and beautiful surroundings, its location right in the border with Afghanistan means that few can currently get permission to visit. But there are many sites of significant historical heritage in the area and it takes two days to explore Takhti Sangin and other small castles along Amu Darya river and Tigrovaya Balka Nature Reserve. I hope that one day Takhti Sanginwill experience a revival of the significance it held in the past and that visitors from around the world will be able to visit and enjoy a place of great beauty and significant historical importance.
Please click on the picture to see Flickr photo gallery of the trip to Takhti Sangin.