11th April 2013 Kuala Lumpur, Malaysia
Lady Thatcher and Tun Mahathir: Era-defining Leaders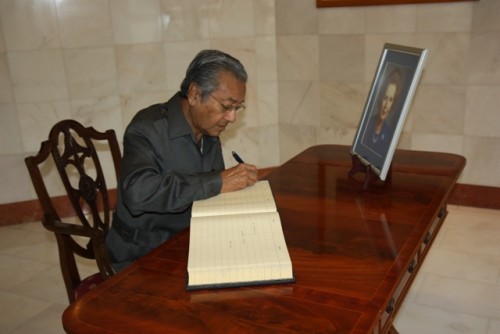 This Blog is also available in Bahasa Malaysia.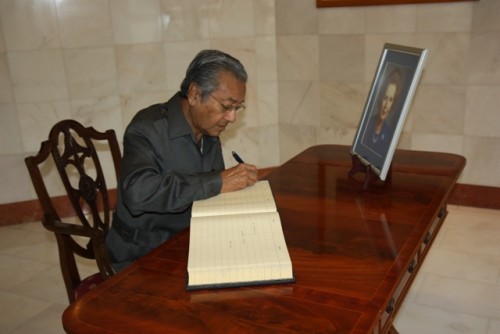 Yesterday morning, I had the pleasure of meeting Malaysia's former Prime Minister Tun Mahathir when he came to the High Commissioner's residence to write a message in a condolence book to mark the sad passing of Lady Thatcher. Tun Mahathir's message and some of the comments on our social media channels got me thinking about how Lady Thatcher's was perceived in Malaysia.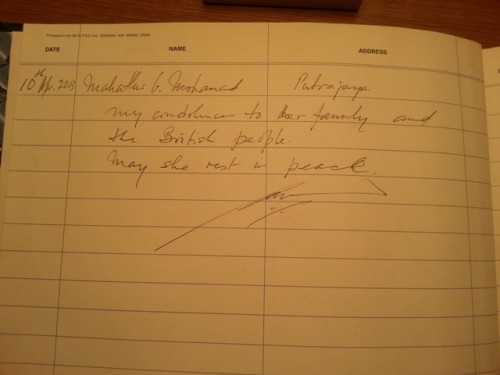 Most Malaysians remember Tun Mahathir's Buy British Last' policy. In October 1981, Tun Mahathir announced that Malaysia would 'buy British when it is absolutely necessary, when… prices and services are way ahead otherwise… we will show a definite preference for non-British sources.' This was instigated partly because of the British Government's decision to charge higher fees for overseas students, but also because of decisions taken by the London Stock Exchange. In early 1982, Tun Mahathir also announced his 'Look East' policy with the aim of learning from Japan's experience.
The stand-off between the UK and Malaysia didn't last very long. In April 1983, Tun Mahathir withdrew his policy directive following a thawing of relations with Lady Thatcher during a visit to London the previous month. And UK-Malaysia rapprochement was finally sealed during Lady Thatcher's historic visit to Malaysia in April 1985 – the first official visit by a British Prime Minister following independence.
Looking at the speeches that Lady Thatcher delivered during that three-day visit, I was struck by the heartfelt language used to describe the warmth of the Malaysian people, the strength of the bilateral relationship, and her personal admiration for Tun Mahathir. It was also clear that the leaders had some fascinating foreign policy discussions including on the importance of the Commonwealth and the Antarctic Treaty. Tun Mahathir eventually agreed to host the Commonwealth Summit in 1989 – a Summit that Lady Thatcher thought was the best that she had ever attended.
I was amused by Lady Thatcher's typically witty retort on Tun Mahathir's Look East policy: 'A few years ago, some of our less robust spirits shuddered when they heard you exhorting your businessmen to look East. You told me this afternoon that "look East" did not mean "buy only from the East"… With the evidence which you provided this afternoon that British industry is really welcome here, I am sure that British business will want to invest in the opportunities Malaysia offers and although, Prime Minister, you may sometimes look East and sometimes may travel East, if you look far enough East and travel far enough East, you always come to the West!
I think it's fair to say that in many respects Lady Thatcher and Tun Mahathir were quite similar. They were born in the same year (1925) and came from humble beginnings. They were perhaps the world's first celebrity Prime Ministers with personas through the media which went beyond their nation's borders. They were also charismatic and patriotic individuals but were often perceived as being single-minded. It is undeniable that they were both responsible for defining periods in their nation's histories.
And there is also no doubt that there was mutual respect between the two leaders. In Lady Thatcher's autobiography, she wrote '…I got on rather well with Dr Mahathir and developed an increasing respect for him. He was tough, shrewd and practical. He had a refreshingly matter-of-fact outlook.'
Tun Mahathir was equally effusive in his book: 'Personally I got on well with Baroness Thatcher… She has done wonders reviving an exhausted Britain. She looked upon her country as I look upon Malaysia. We both want our countries to succeed.'
So, some 28 years following Lady Thatcher's visit, where do UK-Malaysia relations stand?
I would say that they have never been stronger or more beneficial to both countries. We have had more Royal and Ministerial visits in the last two years than in the previous two decades, and we're on target to achieve record levels of bilateral trade and investment.
I think Lady Thatcher words have never been more appropriate: '…Malaysia is a particular friend: an independent country which has a special place in our hearts. We share your wish for a partnership between equals; a true partnership for the future…'
Let me know what you think and please feel free to post your condolence messages on our Facebook page. We will collate all of the messages and send them to Lady Thatcher's family.