6th June 2016 Canberra, Australia
Birthday parties and British policy; first impressions of an FCO newbie
Having joined the Foreign and Commonwealth Office (FCO) just four weeks prior to the British High Commission in Canberra hosting the official celebration for Her Majesty The Queen's 90th birthday, attending a black-tie affair with Ambassadors and diplomats from around the globe certainly fitted, if not exceeded, my mental picture of working life in an embassy.
The British do celebrations better than anyone. Especially when it is in honour of Her Majesty The Queen. And with eleven major British companies providing sponsorship for the event, it was pretty spectacular.
The invitations had a gold-embossed Royal crest.
There was a lone piper welcoming guests, Union Jack bunting lining the marquee, and a state-of-the-art Jaguar out the front.
An award-winning young British chef closed his restaurant for the night to create the most unbelievably creative and modern food.
Even the photo booth was in a London black cab.
The guest list read like a who's who of Canberra influencers, including the Governor General Sir Peter Cosgrove who toasted to the health of The Queen.
The Royal Australian Navy Band played jazz throughout the evening, and led the guests in a rendition of 'Happy Birthday' for Her Majesty.
However, I'm fairly certain that the highlight of everyone's night had to be when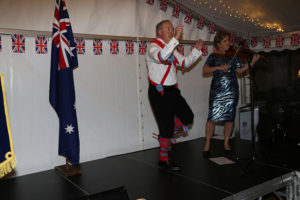 HC Menna Rawlings played the fiddle, while Deputy High Commissioner Tony Brennan delighted us all with some Morris dancing, in traditional dress no less! I am quietly confident in saying the UK has the most remarkable, patriotic and exuberant Head and Deputy Head of Mission in Canberra.
See it all for yourself in our 'QBP in 60 seconds' video here: https://www.youtube.com/watch?v=0PBnM03rkWc, or have a look through our Flickr album here: https://www.flickr.com/photos/ukinaustralia/sets/72157669125738956 
Yet, truth be told, even in the four weeks I've had in this dynamic and global network, I already know that it is so much more than black-tie events, dignitaries and champagne. In fact, that seems to be the smallest aspect of the work that is done by this incredible team of people.
Every element of foreign affairs and policy is covered – from defence, security and foreign policy, to science and innovation, as well as climate change and economics. There are separate teams for trade and investment, and also for visas and consular support.
This all requires a deep understanding not only of the British Government's position and policy, but also the Australian Government's policies and how the two countries can work together in these areas.
And not to forget the seriously talented team of individuals who keep the building, the technology and the staff in perfect working order.
This whole team works symbiotically to ensure the long, historical relationship between Britain and Australia becomes a modern partnership with both countries benefiting, and it is my absolute honour to be a part of it all!