26th January 2021 Khartoum, Sudan
Farewell Sudan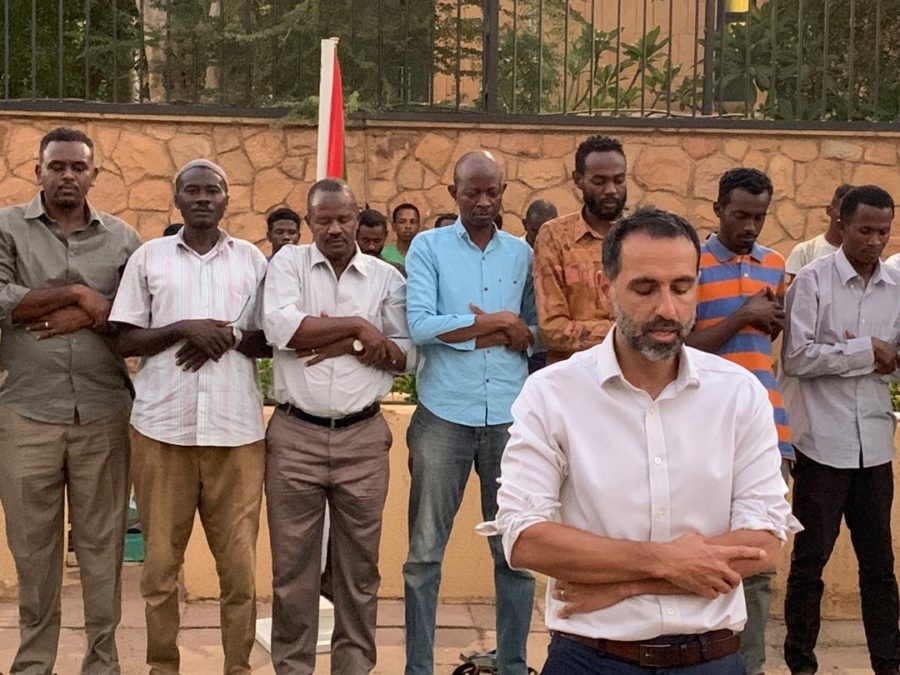 Maghrib prayers outside the Ambassador's residence in Khartoum, Ramadan 2019
I leave Sudan at the end of my posting this week. When I arrived in Sudan in April 2018, I could not have imagined that I would see the historic change that I have. With a dictatorship that had weathered the Arab Spring and was approaching its 30th year in power, prospects for change seemed slim. How wrong that was. The December 2018 protest movement that led to the overthrow of Bashir's regime in April 2019 was an eruption of popular anger and energy over years of injustice. Powered by women and the young, it showed that determined, brave and passionate peaceful protest could bring about a change that had seemed out of reach for so many years. This was a hugely inspirational movement.

As a diplomat, one's primary job is to promote the interests of one's own country. In well-functioning states, this normally means building good relations with the host country as a basis for co-operation. In states that are dysfunctional, autocratic or problematic for other reasons, good relations are rarely sufficient in themselves to deliver the desired goals. Bashir's regime was problematic on many levels. And as diplomats we tried to argue for positive change. But this had little impact, as our influence on a government that had been isolated and sanctioned for decades, was minimal.

The protests that led to the revolution flipped the script. It changed the whole framework of our engagement. For some, it took time to realise this. Having previously worked in a number of authoritarian states, some of which had undergone transitions – I knew that this was a rare opportunity for change. If it was missed, who knew when the next opportunity would re-emerge? This is why I felt so strongly that we had to do all we could to seize this moment of change and why I was so glad that the UK took a lead in supporting the demands of the protest movement, defending their rights and highlighting their cause. This was not only because change would bring a greater chance of supporting UK objectives, but also because it aligned with our values. It is easy to be sceptical about the importance of values in international relations. Interests are normally deemed to trump values and the occasional double standard makes charges of hypocrisy easy to make. But throughout my diplomatic career I have been proud to represent a country that may well be imperfect, and in a country like Sudan has a complicated colonial legacy, but nevertheless has been a strong champion of democracy, freedom and human rights. This made supporting the protest movement an easy decision, even while others worried about how risky this was. It is also why we took the decisive step on 9 April, just days after the sit-in site was established, of calling with our Troika colleagues for a political transition in Sudan. Two days later Bashir was overthrown.

The period from April to August 2019, from the fall of Bashir to the signing of the Constitutional Document, was one of the most intense and rewarding periods of my professional life. The work the international community did then to support the FFC for a civilian led transition was hugely important and played a role in helping bring about the agreement on power sharing and civilianisation of the transition. The fact that the UK took a such a strong lead in arguing vocally, actively and consistently for civilian leadership of the transition, is one of the things I am most proud of during my time in Sudan.

I've faced some criticism in this role for being too outspoken, for interfering in domestic affairs and even for acting like an "imperialist". Although my role as UK Ambassador is to promote UK interests, I don't define these narrowly. All countries' interests are primarily about security and economic prosperity. But these cannot be defined in a zero-sum way. Conflict and instability in Sudan impacts UK security. Poverty and famine in Sudan impacts UK economic interests. We live in a globalised world where all are interconnected. The COVID pandemic and the climate crisis show this painfully clearly. As a global citizen, I see my own interests reflected in developments in Sudan. And so I see an obligation to use my privileged position to try to support positive change. For myself, my family, my country and for the people of Sudan. What is the point of having influence, if you don't try to use this influence for good? So if I am criticised for interfering in Sudanese affairs when, for example, suggesting that the failure to form the Legislative Assembly, more than a year after it was due, is a failure to broaden representation and inclusion in the transition and to build greater consent for decisions being taken, I am perfectly happy to accept such criticism. It is a small price to pay.

There have been many important achievements in the transition so far – scrapping of the hated public order laws, criminalisation of FGM, a new spirit of media freedom, genuine efforts at inter-faith dialogue and religious freedom, including the abolition of the death penalty for apostasy, the Juba Peace Agreement and de-listing from the crippling US designation as a State Sponsor of Terrorism. These should be rightly celebrated. But Sudan still faces many challenges.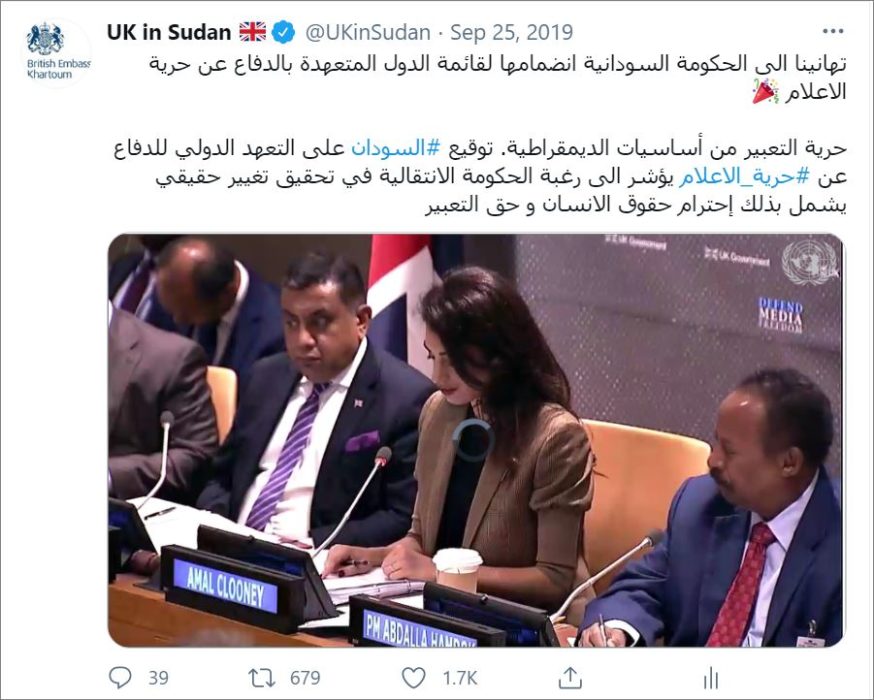 The success of the transition is not guaranteed. Ensuring the governing institutions of the transition (legislative assembly, key commissions) are all formed without any further delay is vital. Completing the peace process and beginning to implement the peace agreement's provisions are essential. Concluding vital reforms (such as floating the currency) is the only way to stabilise the economy (and inflation) and start helping people to feel improvements in their day to day lives. But the areas of reform that I am most keen to see are those that have barely begun, even though we are almost a year and half into this transition – those linked to governance. Moves to establish robust systems for transitional justice. Moves to reform the security sector and ensure full civilian control. Moves to further develop political parties and prepare for elections. And most importantly to start the constitutional dialogue process to help define what sort of state Sudan wants to be. These are the measures that will help ensure that the change in Sudan is not transitory. That this revolution does not fail like those of 1964 or 1985, with a reversion to authoritarianism and military rule. These moves cannot begin soon enough.

Despite the many challenges, I leave Sudan optimistic. The success of this transition remains in the hands of the Sudanese people. The bravery, passion, humour, creativity and determination that the Sudanese people have shown to get to this point is what makes me optimistic. I leave Sudan, but Sudan does not leave me. It will remain in my thoughts and in my heart. Fi aman Allah.