17th November 2016 Delhi, India
UK and India sign MoU on Intellectual Property Cooperation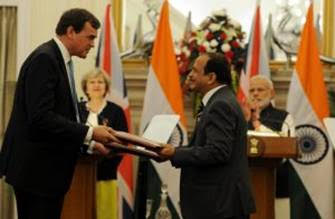 November 7, 2016 marked the cementing of bilateral cooperation between the UK and India on intellectual property (IP) matters.  The UK Intellectual Property Office (UK IPO) and India's Department for Industrial Policy and Promotion (DIPP) signed a Memorandum of Understanding (MoU) aimed at undertaking bilateral activities to enhance and strengthen our respective IP systems.  
The MoU (which will last for 4 years, extendable by further periods of 4 years automatically) provides for mechanisms for the two IP offices to share best practices relating to intellectual property outreach, administration and management.
The MoU was subsequently exchanged between Sir Dominic Asquith, British High Commissioner, India and Ramesh Abhishek,  Secretary, Department of Industrial Policy & Promotion in the presence of the Prime Ministers of the UK and India.
The two prime ministers welcomed the signing of the MoU, which will promote innovation, creativity and economic growth in both countries.  Prime Minister Theresa May mentioned the progress in IP relations between the UK and India in her speech with the words, "Here today, we have agreed a new programme of co-operation to strengthen the protection and enforcement of intellectual property rights, which provides greater certainty for business."
The text of the MoU will be uploaded in the public domain in due course (watch this space!).  Going forward, UK IPO and the Office of the Controller General of IP in India will agree a 2-year workplan to take forward commitments under the MoU.